The Ax-1 space mission made history this Saturday as the first completely private mission to arrive at the International Space Station (ISS).
The Dragon Endeavour, with four astronauts from the Axiom company on board, the Hispanic-American Michael López-Alegría, the American Larry Connor, the Canadian Mark Pathy and the Israeli Eytan Stibbe, has been hooked to the ISS at 12:40 GMT.
BobCat Parts Our Media Partner
The ships used by the Ax-1, a Falcon 9 rocket and the Dragon Endeavor capsule, belong to SpaceX, Elon Musk's company, but the Texas company Axiom is responsible for the expedition.
The astronauts have been received by their ISS colleagues with hugs and a photo session. It was NASA astronauts Tom Marshburn and Kayla Barron who opened the interior hatch after confirming that the pressurization had been done correctly.
Once on board the station, the Axiom crew has been received by members of Expedition 67, which in addition to Marshburn and Barron houses Raja Chari, also from NASA; astronaut Matthias Maurer, from the European Space Agency (ESA), and cosmonauts Oleg Artemyev, Sergey Korsokov and Denis. Matveev of the Russian space agency Roscosmos.
"Team #Ax1 greeted by Space Station crew leaving Dragon and entering home for the next 8 days," Axiom Space company tweeted.
Once inside the ISS, the 11 astronauts have gathered in front of a camera to carry out the welcome ceremony, a kind of selfie in a circle for which it has been necessary for two of them to stand upside down taking advantage of weightlessness.
At the ceremony, the commander of the AX-1, former NASA astronaut of Spanish origin Miguel López-Alegría, decorated his three companions with a pin from the Association of Space Explorers (ASE) , a non-profit organization made up of people who have completed at least one Earth orbit in space, as defined by the International Air Federation.
They will spend eight days on the ISS
The Axiom 1 Mission (Ax-1) took off this Friday from Cape Canaveral, Florida (USA) bound for the ISS, where they will carry out scientific and commercial activities. After a journey of almost 21 hours, according to NASA, the capsule has docked autonomously to the space-oriented port of the ISS Harmony module.
Derek Hassmann, director of operations at the firm Axiom Space, explained that it is an "international crew that will carry out experiments and other activities in orbit" during the 10-day expedition, eight of which will remain on the ISS.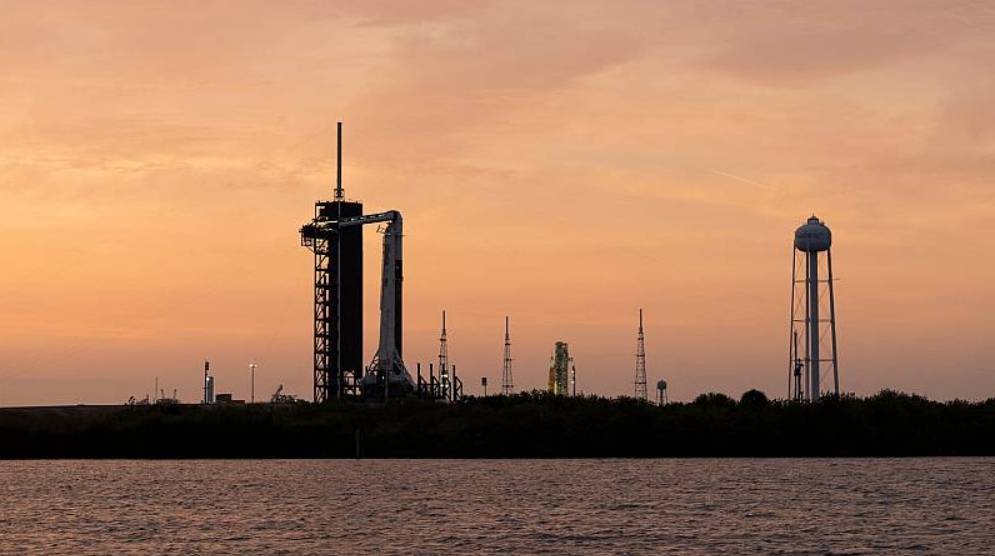 The Ax-1 mission, in addition to being the first commercial visit to the ISS, is also the second totally private flight put into orbit after Inspiration4 last September, also with private financing and also in a SpaceX Dragon capsule.
Michael Suffredini, President and CEO of Axiom Space, congratulated the four astronauts and stressed that "this journey is the culmination of long hours of training, planning and dedication from the crew and the entire Axiom Space team, our partners in SpaceX and of course a credit to NASA's vision to develop a sustainable presence in low Earth orbit."